The Skyrunner 2017 calendar has been announced and it's time to plan this year's events. Registrations are coming up quickly! Thinking about challenging yourself in the Extreme Series?
Kimberly explain her experience and feeling in 2016 :
"Skyrunning: To the Extreme
2016 Skyrunner World Series: Extreme
August 6: Tromsø SkyRace – 58km 4600m+, Tromsø, Norway
August 28: Trofeo Kima – 52km 4200m+, Val Masino, Italy
September 18: Salomon Glen Coe Skyline – 55km 4700m+ Glen Coe, Scotland
"You hill-running girls are tough as shit," he says. I laugh, mostly at the understatement of these being hills. The highest elevation we reach is only 1150 meters, but more rugged than anything I've encountered racing higher in the Alps. I run most of Glen Coe Skyline with Niall, who is familiar with the trails and fells. We are in stride, chatting for some pleasant kilometers of running after the technical climb up Curved Ridge and approaching a knee-crushing descent down rock stairs before the next big uphill haul into the rain and fog. This is about the best compliment I can hope for. Tough. For some runners, the Skyrunner Extreme Series tests speed, technical ability, and endurance. For me, the races pose a test of toughness and questioning my limits.
As soon as Skyrunner International announced the inaugural series last December, I started dreaming of running them all. Besides passing the vetting for acceptance to Kima and Glen Coe, and traveling to three countries, I'd also be setting myself up to run my three hardest races to date – all within a six week span.
Even more than a chance to challenge ourselves, these races offer camaraderie and a community bonded by big days in beautiful places. By the time we arrive in Glen Coe, it feels like a reunion, rejoining friends from the past year's events.
Each race of the series starts just over 200 international runners facing our own struggles, and victories, moments that push us, and many that make us smile. Running our individual races, our stories unfold in the same settings, following the same trail…or lack of trail. We feel the same rocks, step into the muddy shoe prints of the runner ahead, deepen the depressions in the snow. We move through shared hours, some more than others. The first Extreme Series in 2016 drew many top mountain runners, but even at that level, it seems to be less about the competition and more about the community.
There are many stories to tell from these races and the events that brought us to them: Jonathan Albon's success, Jasmine Paris winning the women's series on top of her round records this season, Emilie Forsberg's comeback after knee surgery to take Kima, the strength of Malene Blikken Haukøy, and on and on… Although I am not one of these top athletes, I love running in the mountains and am grateful to the organizers and many volunteers who offered their time and energy to make these races safe and beautiful experiences for us runners. I got a hug on Hamperokken, posed for photos with Kima crew on the course, and enjoyed the wit and good humor of the Glen Coe marshals who spent some cold wet hours out there. I am honored to share my Extreme story.
Tromsø:
A few nights before the start, I arrive in Tromsø with my husband Derek (also running the three races), but no baggage. We packed our tent for two weeks camping in Norway, and planned to spend our time around race day by running, hiking, and exploring. Our gear doesn't arrive after the three flights to reach the north, but we don't grumble too much about having to spend our first night in a hotel. We enjoy the luxury of The Edge Hotel and the hearty breakfast, making it more difficult to resume camping as usual, but we are familiar with Tromsø Camping from last year, and it's also a nice base. In 2015, I ran the Blamann Vertical Kilometer and the Tromsdalstind 20km. These shorter races gave me a taste for the raw feeling of running in northern Norway, drawing me to return for the Hamperokken Skyrace.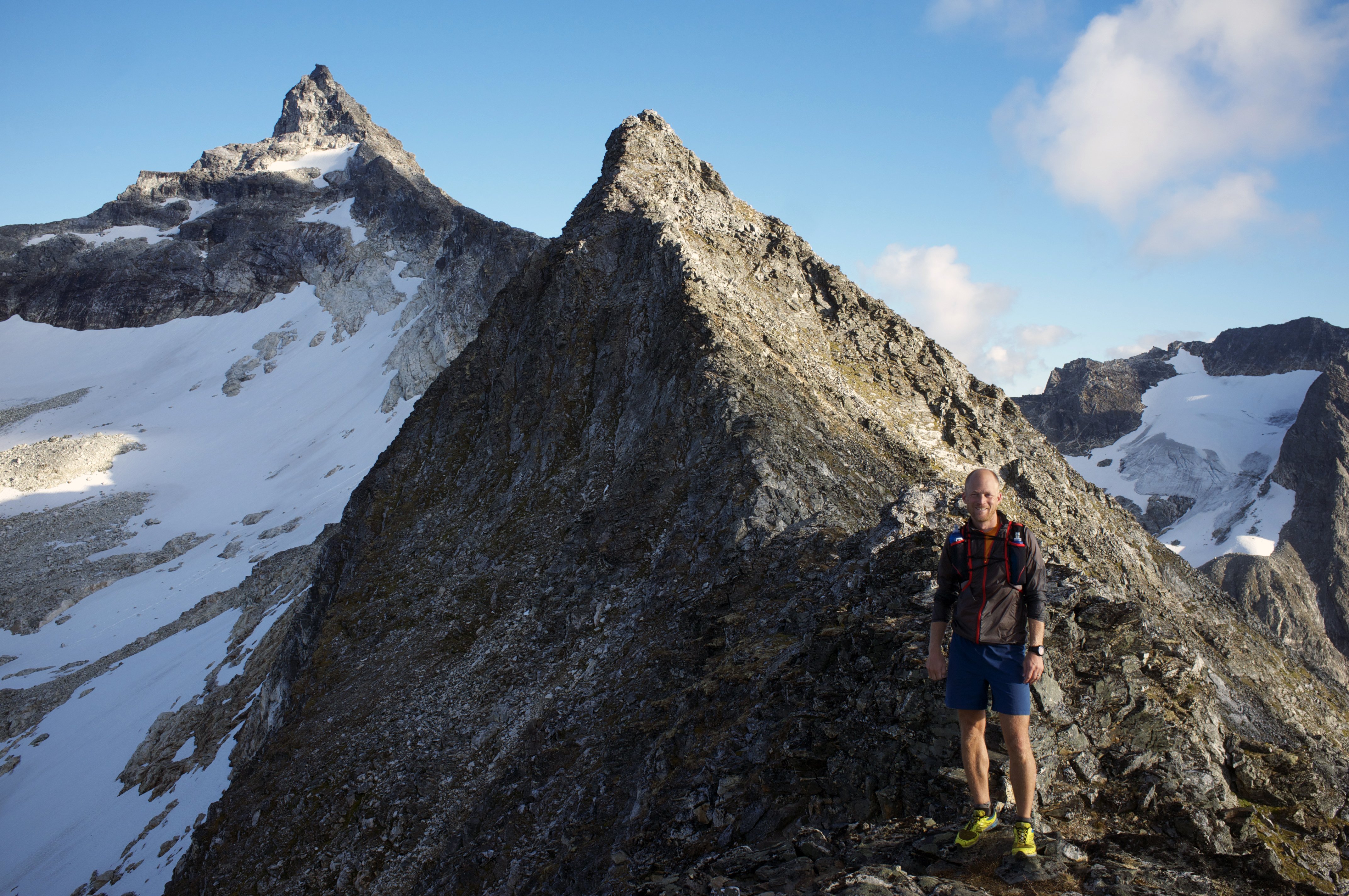 The 2016 course starts in the city, crosses the bridge, and climbs to the top of the gondola, last year's starting line. Retracing these 6km to the finish, adds 10km and 400m+/- to the previous course. The route is all-terrain and often off-trail. It carries the runners over boulder fields, through streams, forest ruts, snow slides, up and down steep blueberry-lined slopes, and the highlight- the long, technical ridge leading to Hamperokken summit. I catch my husband here- of all places- and we spend some of the next hours moving together.
This relentless spine and sharp peak require concentration and sure footing, but I struggle more with the wild descents both from Tromsdalstinden and Hamperokken. I badly sprained an ankle racing in June, only 8 weeks before and haven't regained confidence for the downhill, still favoring the unstable side. My only goal is to make it through this first long race and not do any damage that will prevent me from finishing the series as a whole. Without my added caution, these descents are still tough, even seeing other runners drop down them with much less effort. The constant "rock" calls in the fog mixed with the sounds of sliding boulders elevate the heart rate as much as the effort of moving.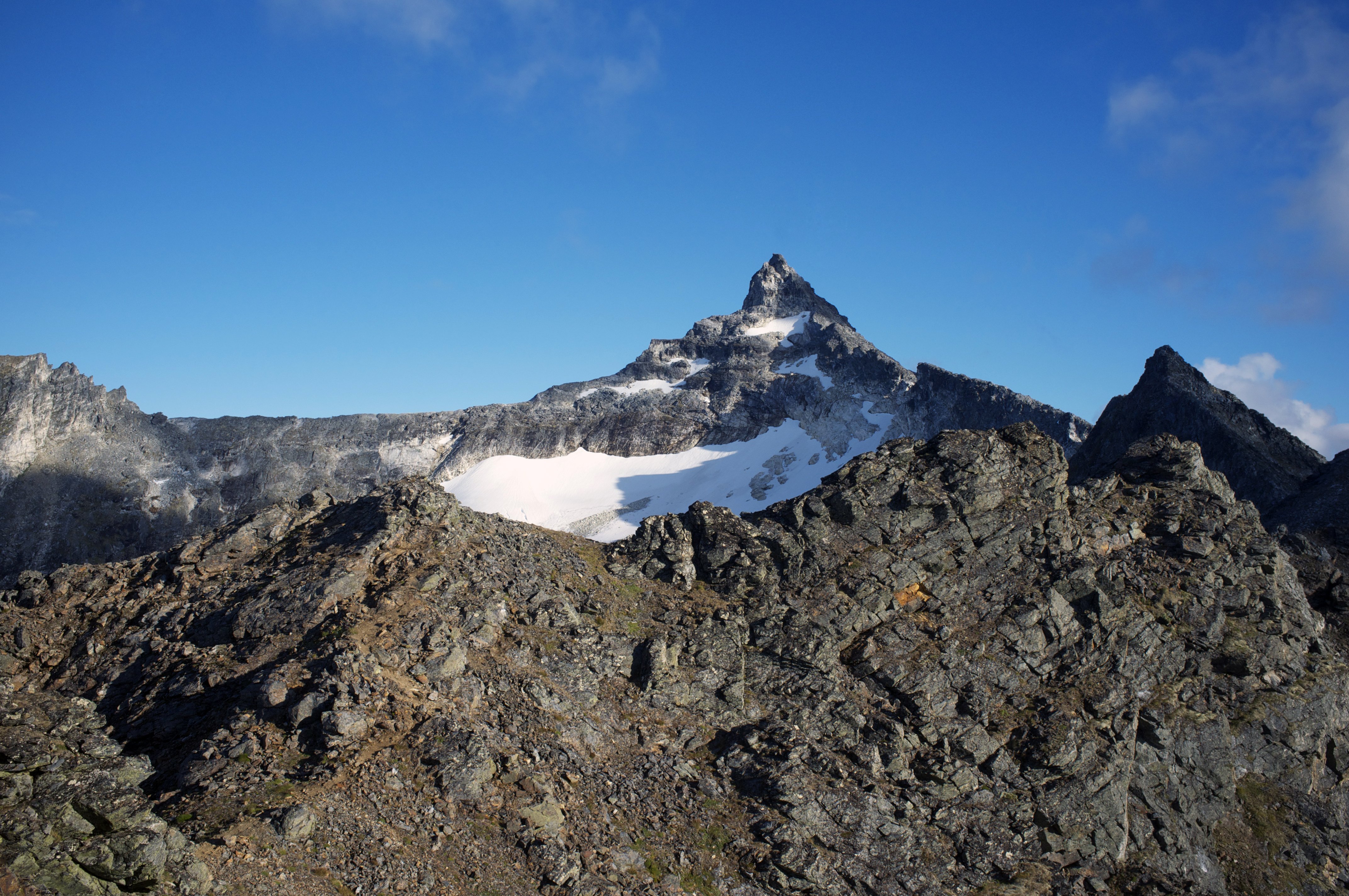 Traveling together now, Derek and I compare our experiences of the previous kilometers. We sent messages to each other through other runners, and discovered that he slipped past me early in the race when I wandered off course in the fog. We are happy for each other's company through some difficult sections, especially as I lose energy. During these hours, I don't understand my feeling; I just can't move any faster, I can barely move at all. I can't eat and start vomiting (which lasts the next 24 hours). Soon I am alerted to maximum time limits, not something I typically think about, but I am moving too slowly, and in danger of missing the finish time. After some insistence, Derek pulls ahead to make the time allowance. Leaving me behind in just a few easy strides, and I realize just how weak I have become. When I reach the last checkpoint, I know I can't make final the time cut, but I try anyway. A 5km sprint to the finish, and I cross the line to join the crowd of finishers already showered and eating. Only one minute to spare for the 13-hour limit, and absolutely worth it for cheers from Laura Orgué, a high-five from Emelie Forsberg, and joining the celebration of runners at the finish line.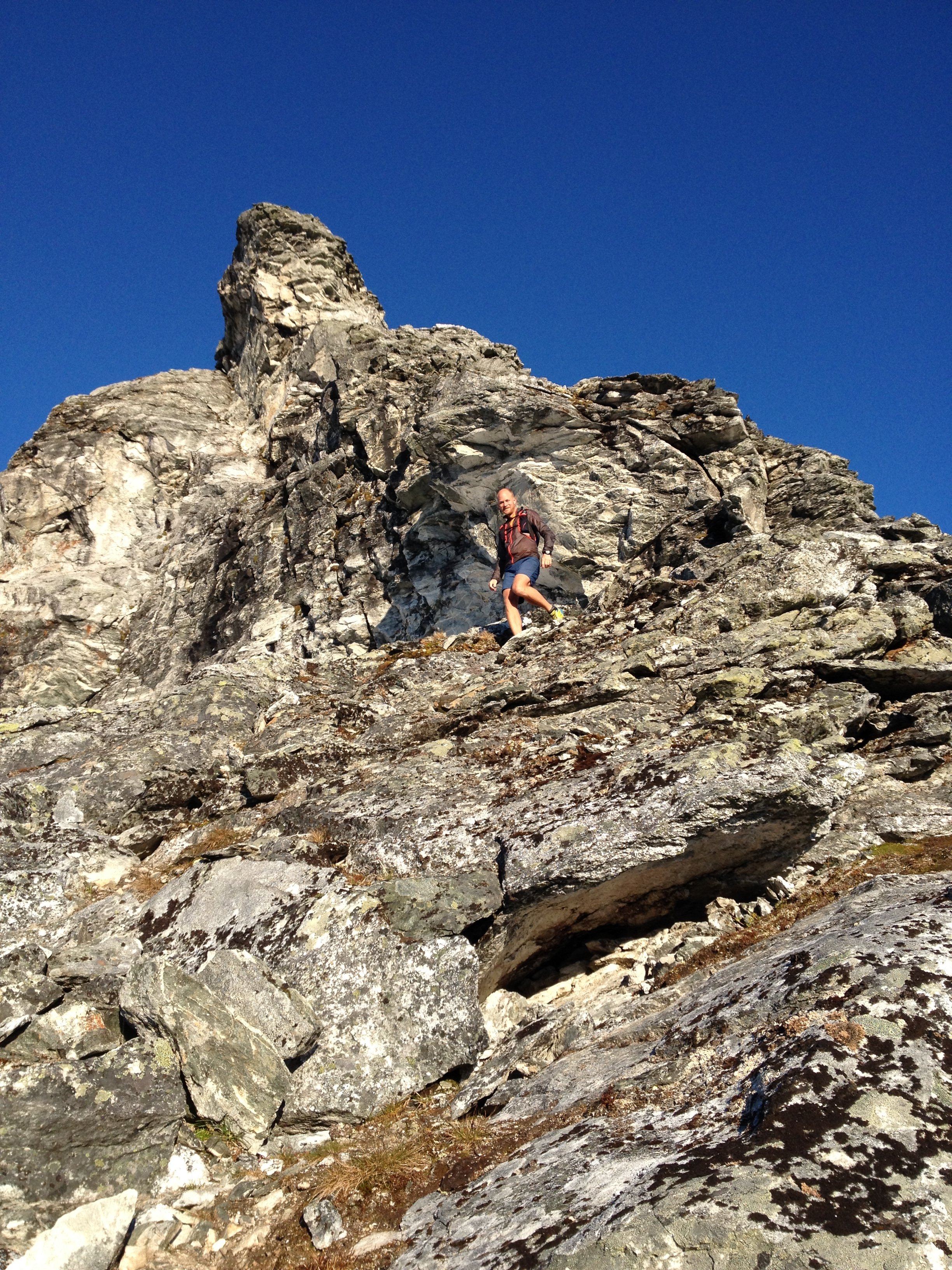 Tromsø is rugged; it demands toughness and promises fog, cold, and wetness, even on a good weather day. In a few minutes runners leave the city behind and are in the wilderness, feeling far from everything. We drink from the streams and eat the berries by our feet. The fog is a gift so we don't know the length of the ridge or feel the depth of the drop below. After journeying through our individual sagas, we abruptly feel the metal bridge again. We weave through the people on the docks and colorful buildings beside the sea. We have again entered reality.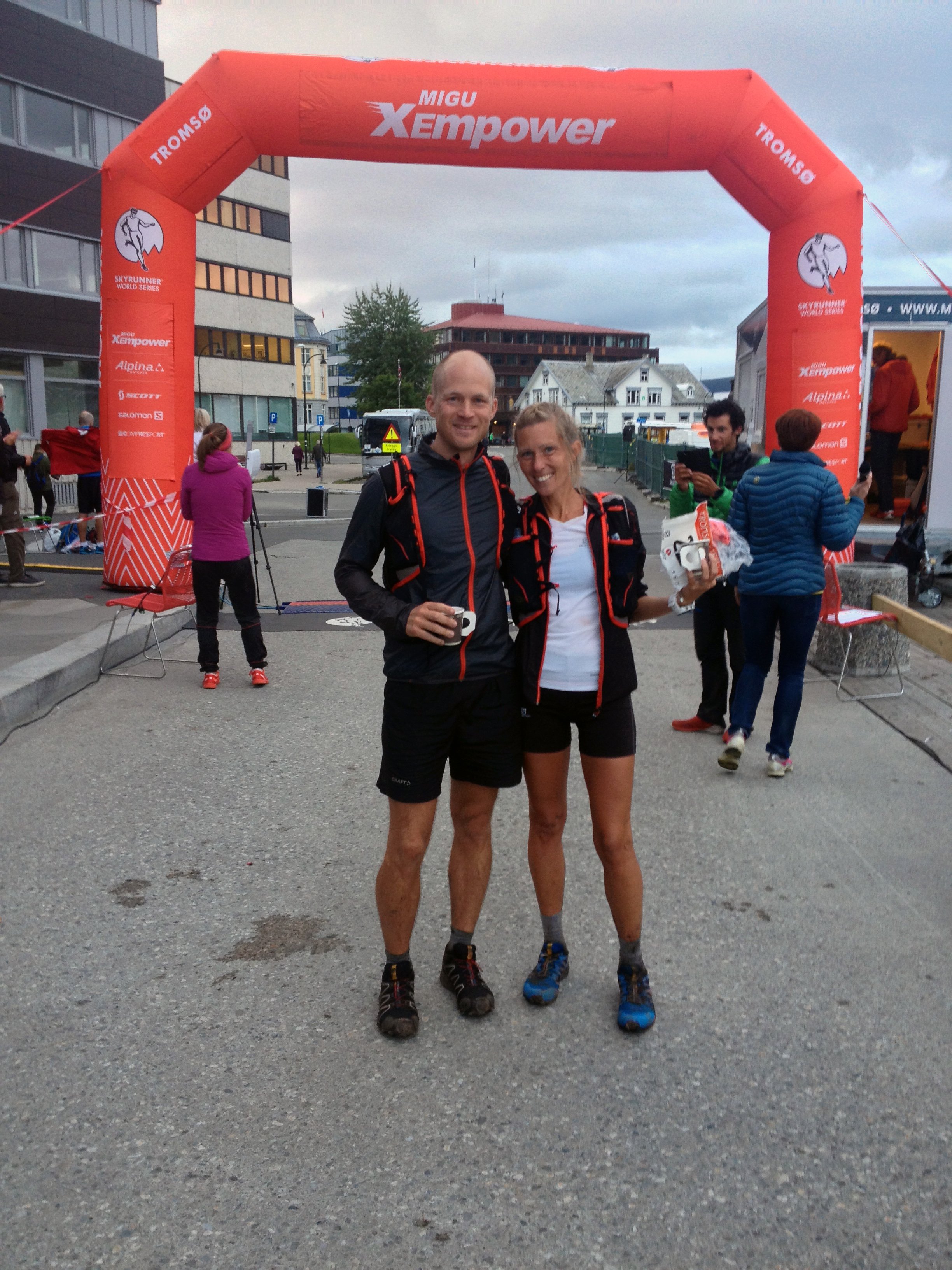 I left Tromsø wondering if I was in over my head with these three races. Would Kima be the same? Was I finding my limit?
Kima:
We take a long weekend road trip from our home in France to Italy, sharing the travels with friends who are also racing. We each have a nervous energy for this unknown, the legendary Kima.
Landslides eroded early stretches of the trail, so the course begins on switchbacks of asphalt and silence. Race day is beautiful, but warm even at the early start. Suddenly we turn sharply onto steep trail and discover what makes Kima famous. Rocks. For nearly the entire course, our feet and hands touch only rocks, and occasionally chains. Kima is boulder hopping and via ferrata. Going up: rocks. Coming down: rocks. Runners climb to seven high passes during the course, but these are separated by kilometers of boulder hopping, a slow task. These tough traverses wear on me more than the 4200m vertical gain, and I look forward to the climbs.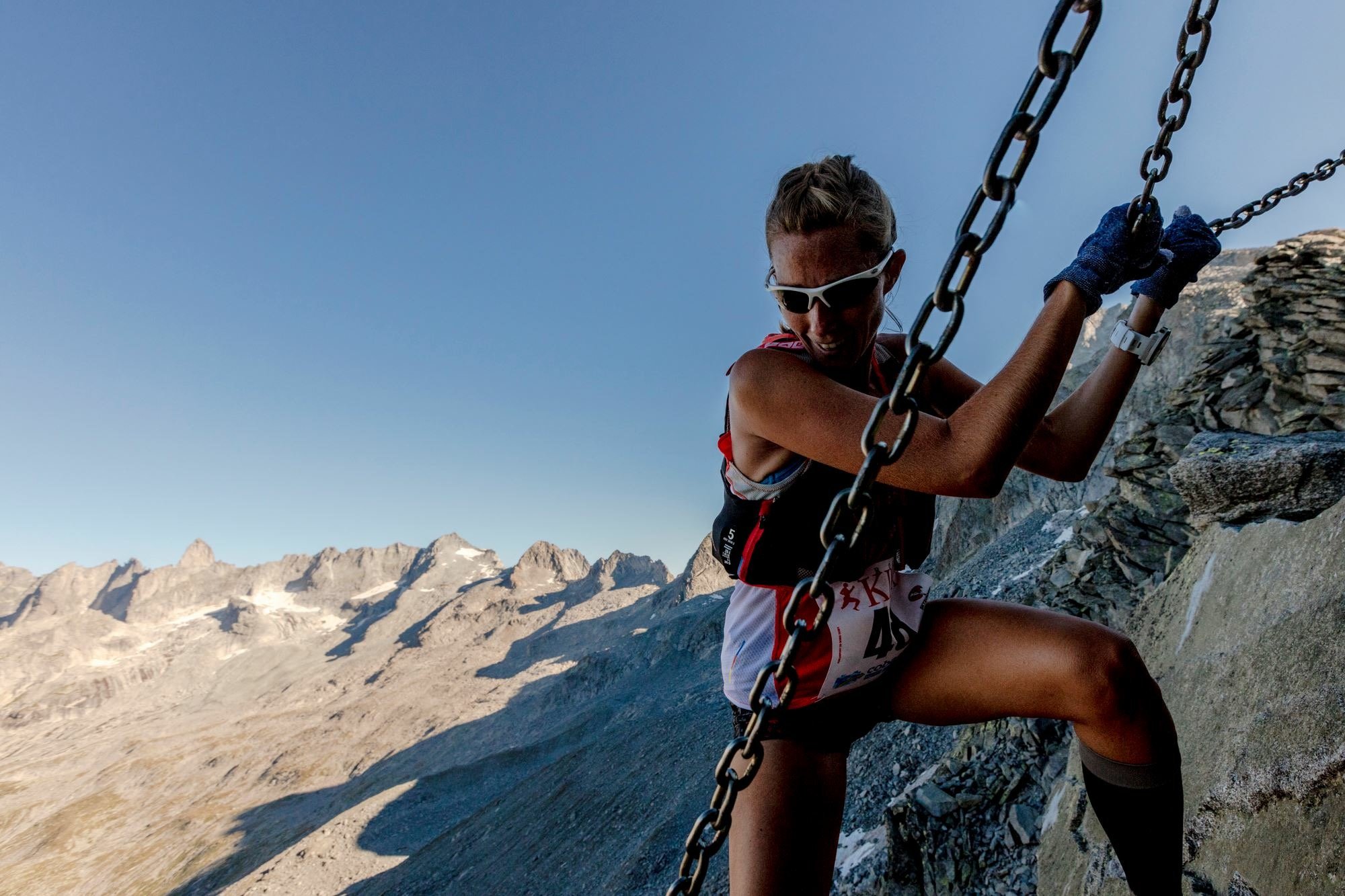 After my experience at Tromsø, I am concerned by the time restrictions, and I am not the only one. Nearly 50% of participants (all selected based on previous experience) won't finish, but I know if I make the 5.5 hour mark, I'll make it. First check, no problem, and second, also done. I let myself ease up even more. (I am looking forward to a three-day transalpine run the next weekend, so no need to risk injury or tire too much). I've made the time cuts, now relax to the finish. I even stop to remove rocks from my shoes, and enjoy the stunning views – the pointed peaks all around are worth lengthy appreciation. Approaching the sixth hut, I have been chatting away with fellow runners, and we are surprised to be met with crossed arms, an international symbol to stop. A third time barrier has been implemented, ending our race before the final climb and long descent. Some are frustrated, myself included, but after surrendering my bib pin, and feeding on the adrenaline of the past 8 hours, an Italian woman and I decide to finish it together. We are only 10 minutes late, and have reserved energy to go the distance. Our times won't be ranked, but we intend to finish what we started. I want to see what is still ahead. No need to hurry now, we run easily and enjoy the final pass. We gather a few others along the way and stop at a refuge to refill our bottles. We feel the difficult 2000-meter descent, and finally drop into San Martino, a 5 km flat run still between us and the finish line.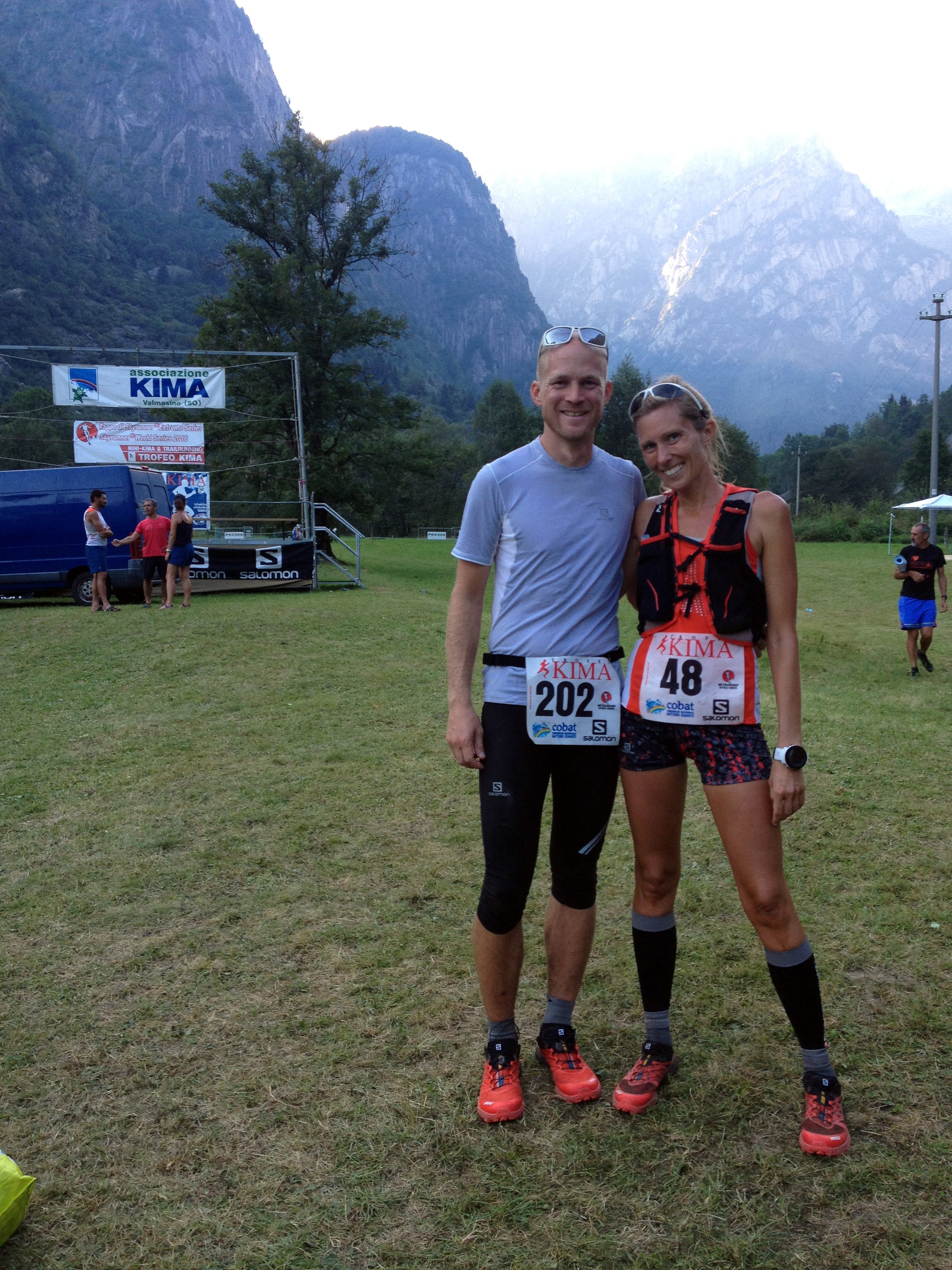 People in cafes, in the street, and on their balconies cheer. Their encouragement replaces our previous frustration and tiredness with pride. We struggle with our feelings, we didn't make the time, we should have done things differently, but we will finish, about an hour behind the 11 hour women's limit. No one cares how long we take, we finish something that not too many runners have the opportunity to undertake, and we are champions to the kids who offer their hands for high-fives. The volunteers and other runners congratulate our stubbornness. I love competing and succeeding, but this failure somehow feels like a victory and I throw my arms in the air to celebrate… even though the arch had already been deflated. We feel like winners even though they have passed hours before.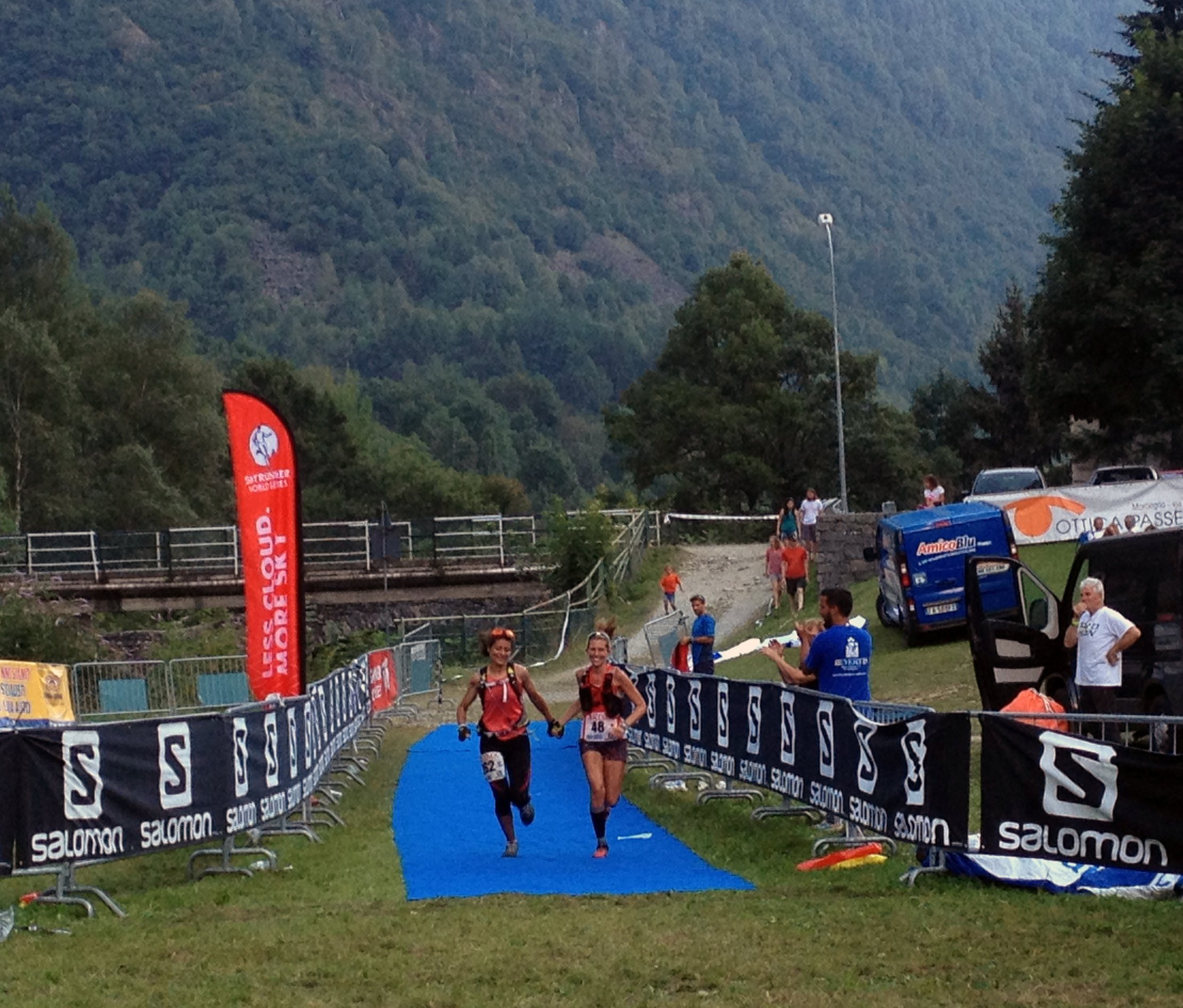 It's an honor to run Kima, and if I get the privilege to try again, I will be ready. I regret that I didn't try enough, I should have given more effort, but maybe the result wouldn't be different. Maybe my ankle wouldn't have survived or maybe I wouldn't have the strength for the upcoming weeks. At least this way, I can keep going, and approach Glen Coe with more experience.
Glen Coe:
"Just make it 'round." So many of the runners claim the same goal. Glen Coe promises to be one of the toughest routes we can imagine. With a sendoff by bagpipes, the race starts with an uphill run towards the sunrise intending to space the runners before we reach the infamous Curved Ridge, a technical and steep climb with no option to pass. Here we wait our turn to scramble the rocks where people often use ropes: Kima, without the metal.
After a sunny start, we are treated to more typical Scottish weather. Fog, rain, and mood wait for us on the ridges and summits. A light wind, and almost cold temperature, absolutely perfect. I spend much of the race with the same companion, we are a good match for several hours, and his local knowledge of the mountains is invaluable. I am typically rather chatty on the trails, even in tight competition, but the runners at Glen Coe are just as chummy. We move along, working hard and having fun. I half expect to stop for tea somewhere along the way.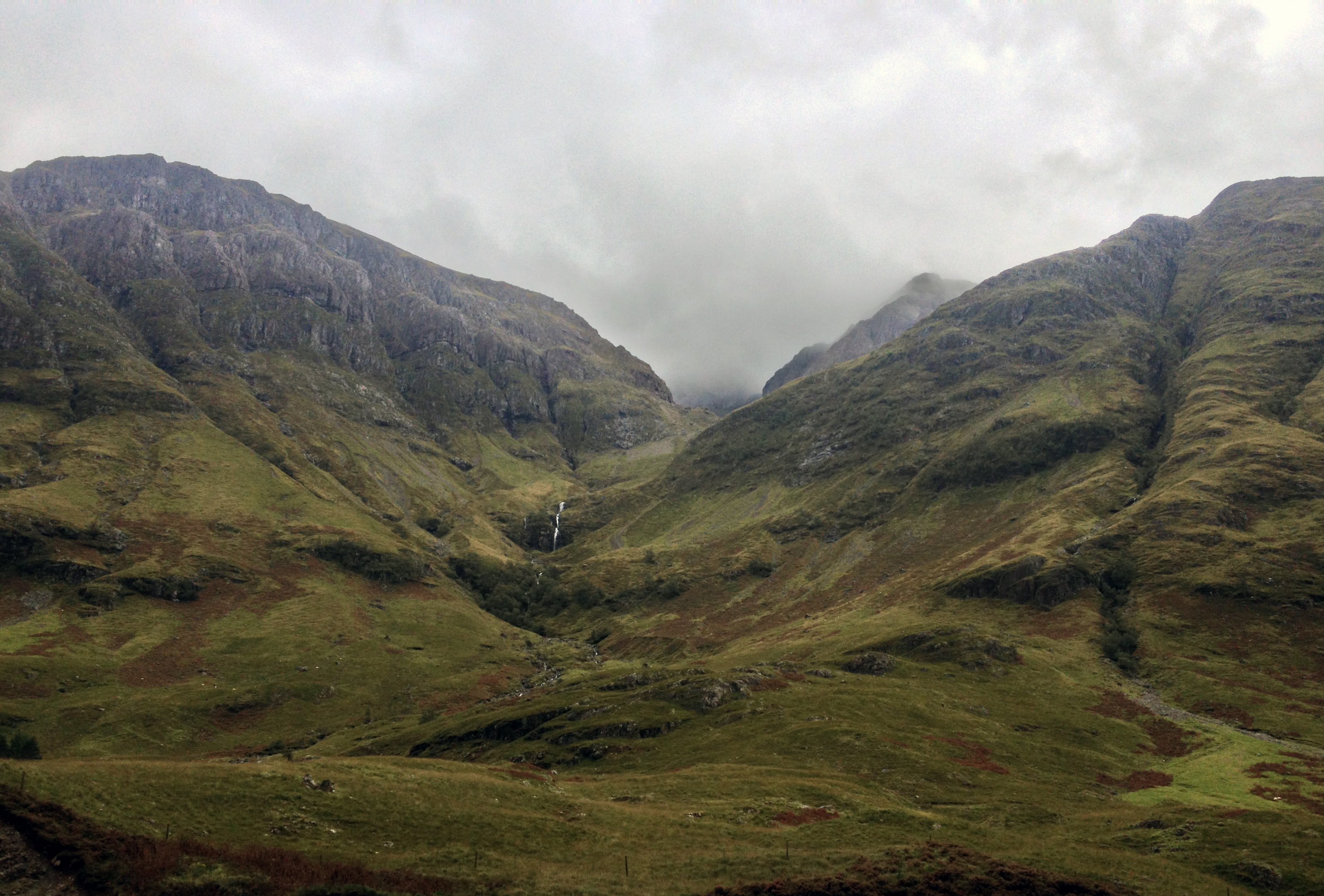 On Aonach Eagach I feel alone for the first time, and more than once the thought intrudes that there is no one around to witness a fall from the columns. "That's why we taped tracking devices to your packs," race director Shane Ohly jokes over a beer that night, but has helped scout the safest routes along technical passages to limit slipping and rock falls.
Overly-eager first strides off the ridge, my feet flail into the air and I land hard on wet rock. A better place to be clumsy than scrambling over the columns. Only uneven, rolling, rocky-grass, and descent to the finish.
As a volunteer marshal cuts the GPS receiver from my race sack and timing chip from my wrist, I notice my wet clothes and muddy feet standing beneath the inflated finish line in Kinlochleven, a tiny town in the Scottish Highlands. It's a grey Sunday afternoon, and I wobble around a bit before heading back to camp for a shower. I've just finished the third and final race of the World Skyrunner Extreme Series.
The shimmy up Curved Ridge, and the careful maneuvering across and up Aonach Eagach aside, the course offers more running than the other two Extreme races. Possibly the perfect blend of trail, scramble, technical ridge, barreling descents, plodding uphill, and wild fell where I fear falling into a bog.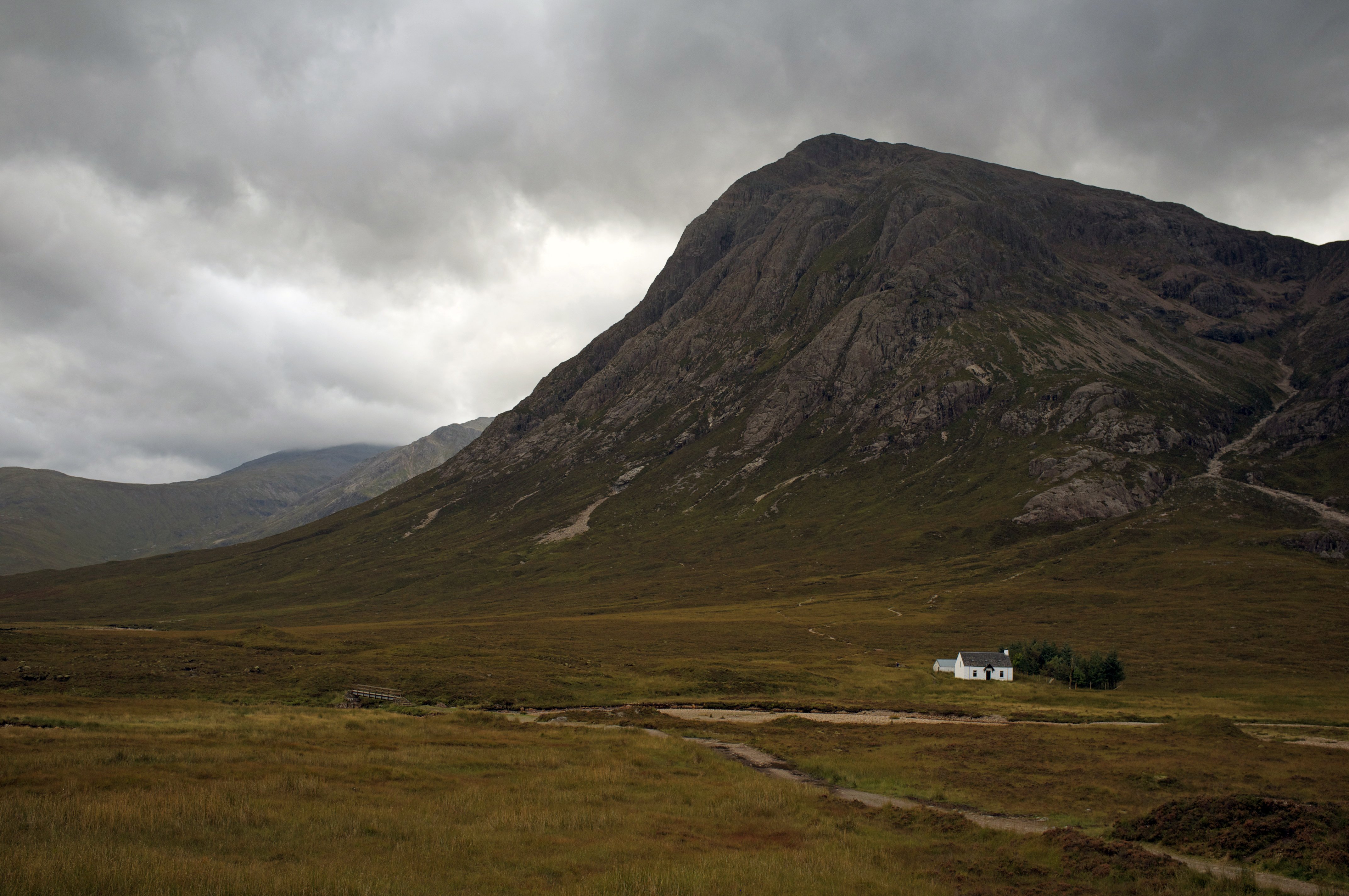 I am relieved for no major struggles today, finishing comfortably. Finally my body accepts the hours (10'48") and technical terrain. Ok, I feel ready to start the series.
Now that the races are behind me, I am properly prepared for the first starting line, and hope to test them each again. Even in the low moments, I appreciate the privilege to participate in these races. I smile all the way because I am part of something special, breathing fresh, wild air, and chasing beautiful landscapes.
The races of the Extreme Series are similar in distance and elevation gain, but distinctly different terrain and demands make them unique challenges. We go to Tromsø to be far north, to test our toughness, to feel remote and far away. In Italy, we dance on the rocks, high above the valley, and inhabit the space of birds. We try to fly free while gritting our teeth and gripping boulders with fingers and toes. At Glen Coe we clamber over dark stones into legends and lore. We disappear up into the fog and descend, each, as a hero."
Texte by Kimberly Strom, american's girl 🙂
Thanks a lot Kimberly and Derek !
Photos Kimberly Strom, Ian Corless, Organisation Kima